FINAL BLOG ENTRY - THANK YOU
Monday, May 16, 2011
As I sit here in Kathmandu waiting to change my flight to Calgary I contemplate the past 2 years of taining and everyone who made this moment possible. I owe a lot of thanks to many different people and would like to take this opportunity to mention a few of them.- so thank you to….. My kids Katie and Billy - my inspirations
John Furneaux - great friend and Canadian guide and Everest team (2x Everest summitter)- too bad we didn't summit together this time but yourcould not have succeeded without your mentorship or claimed the other peaks we have together. Look forward to our next trip.
Wayne Johnson - my inspirational fitness trainer and friend (4-5x weeklyfor 1-2.5 hours for past 2 years) - never had the same work out and has really been challenged in trying to respond huge weight flucuations caused by many long expeditions and my busy schedule. Never left a work out bored or felt like there was more in the tank.
Borger Group of Companies Team - couldn't have had maintained the training schedule or climbing schedule without your help
Larry Dolecki - Icefall Lodge owner and Canadian Guide and friend - thank you for so many safe peaks in the rockies
Pierre Hungr - With Pierre I share my greatest Epic on Mount Rainier and another fun climb on Denali
Norman Winter - the August in the Alps spent on the great peaks like the Matterhorn, Mt. Blanc and many others with always be in my memory as a great time. A couple of the rockies we have claimed leave us both planning our next trip up Mt. Assinaboine Everest Sherpa Team - if I ever get a chance to climb in the Himilayas again I will definitely be call the exact same team
David Howse - Matterhorn PR - its been a blast - as a friend and a media guru appreciate your catering to my stylings and exposure allowances and never letting the media set the pace
Andrew Bunka - Website guru - I was impressed!
Suresh Sharma - a great friend and basecamp manager upon arrival. Thanks buddy!!
Calgary Handibus - its been a blast! Thank you for letting me contribute to your organization Forum X
The rest of my friends and family who constantly showed their support and encouragement
Alloy Dining - for helping me re bulk up between expeditions with customized meals
Calgary Herald, Fan 960 and Global TV for the very tasteful and well designed media coverage
Also I was not sponsored by anyone in any way so here is my unbiased choices for mountaineering gear if you are interested:
sleeping bags - Marmot -40C down filled
Underlayers - Icebreaker gear only! its the only gear that 5 days of not changing the smell is bearable - (lulu lemon non-stink stuff doesn't compare)
tents - MEC
Downsuit - Mountain Hardware
High Alt Boots - La Sportiva
Technical boots - La Sportiva
trekiing boots - Solomon
High Alt glasses - Jublo
regular mountain clothing - Arcteryx
high alt mitts - outdoor research
high alt electronics - panasonic toughbook with flashdrive substitute, Sony Flash memory camera, iphone, headlamps - black diamond
Calgay's best stores for finding high quality mountaineering gear - Atmosphere and Camper's Village and MEC
An interview with Bill LIVE! from base camp after reaching the summit
Saturday, May 14, 2011
Listen to Bill's radio interview from base camp with Jungle Jim Hunter from the Fan960 radio. Click here to listen
Bill is back safe and sound at Base camp.
Friday, May 13, 2011
Bill is in great spirits. Obviously exhausted from his trip from Camp IV on the South Col to Base camp in one day. Sense of humour is intact and just busy resting, hydrating and trying to eat.
Bill and the summit team are back safely at Camp IV
Thursday, May 12, 2011
10 minutes into their return to Camp IV it turned ugly. A "complete white out", he reported emphatically to John. Bill reports that conditions at Camp IV are terrible. But they are in for the night and safe. Further, Bill sounded strong, very coherent and lucid. Quite a thing to say after climbing in those conditions. The next step in the plan is for Bill to descend to Camp II.
It's official. Bill Borger, Jr. stood on the summit at approximately 6:44 am Nepal time!
Wednesday, May 11, 2011
Bill Borger has successfully summited Mt. Everest at approximately 6:44am Nepal time. Exact details to come once he's back at Camp 4 on the South Col. Bill is strong, safe, lucid, and the first Canadian to swim the English Channel and Summit Mt Everest.
Leaving for the summit (10:10 AM)
Wednesday, May 11, 2011
Bill has now left for the summit. If it goes to plan, he is expected to summit at around 7-7:30pm Mountain Time, Wednesday, May 11, 2011.
The report is Bill's strength is good and he's ready for the day ahead.
Bill now at Camp IV (6:10 AM)
Wednesday, May 11, 2011
Bill set out around 5am from the Lhotse Face, Camp 3, (roughly 23,000 feet) and climbed past the Yellow Band, the Geneva Spur, into the death zone, to arrive at Camp 4, (approximately 26,000 feet) on the South Col. He's very tired after a long day, which as John commented is entirely normal. John further said, that in his opinion, the day that takes the climber from Camp 3 to 4 is "in many ways harder than Summit Day."
Bill's irrepressible sense of humour remains in tact, and after his rest, is in position for a planned departure from Camp 4 of around 9 PM, May 11 (local time), in order to arrive at 29,029 feet, the summit of Mt Everest, in the early morning of Thursday, May 12, 2011 (Nepal time). Hopefully, he'll even catch the sunrise with clear skies.
Bill now at Camp III (6:05 AM)
Tuesday, May 10, 2011
Audio recording from Bill at Camp 3 (24,500 feet) talking to John at Camp 2 is now online. Bill is climbing with Thendorjay Sherpa. John, having had to turn back from the first day due to illness is now trying to catch Bill and meet him at Camp 4 so they can summit together.
As you'll hear from the 3+ min recording, if John can't meet him, he's suggesting Bill push ahead to summit on Thursday May 12 (Nepal time) as was planned. The report is that Bill is feeling stronger at Camp 3 then he was at Camp 2, and he's eating. In fact, the report is that Bill is going fabulously and very strong.
The weather window of May 12th is still the date. Though it's snowing heavily, as John reports, at Camp 2, Bill reports it is snowing only lightly at Camp 3. The plan is for Bill to leave for Camp 4, the South Col, at 5am May 11. That is a big height jump and makes for a big, big day. Bill will be moving past 8000 meters into the death zone to get to Camp 4.
ITS GO TIME!!! (7:35 AM)
Friday, May 06, 2011
On May 4th we helicoptered from Basecamp to Kathmandu. This is the preplanned low altitude portion of our acclimation schedule. The lower altitude is a huge benefit - It doesn't cost any red blood cells or acclimation but it does emmensely help the body repair and strengthen as the thicker air has huge healing power. We have essentially been deteriorating continuously since we ascended on April 1st and I have already lost 27lbs since my peak of 187lbs just before leaving Calgary. In Kathmandu we have totally relaxed; swimming in the pool, eating like kings, louging in the sun, catching up on email and studying the weather.
The weather is showing a window of lower summit winds (30-60km/h) for a May 12th summit bid - we are going to chase it, and as a result are choppering back to basecamp tomorrow (7th) at 6:00am to readjust and be ready to start up the mountain on the 9th at 2:00am. My website www.borgerpeakandpond.com is transitioning to a new look for the summit push so check it out - it promises to be really cool. Our bid for the summit will take 4-5 days to get up and require 2 more days to get down. Our proposed schedule Calgary (MST) time is as follows:
Basecamp to Camp 2 - May 8 - 2pm start
Camp 2 - Camp 3 - May 9th - 5pm start
Camp 3- Camp 4 - May 10 - 5pm start
Camp 4 - Summit - May 11 - 10:30am start - likely be on the summit before 8pm
My website will be updated continuously during this period with up to the minute live radio calls and phonecalls as well as well as twitter updates! I'm very excited - feel strong and hope the weather and health hold so we can stand on top the world within the next week.
Last active rest day before heading to Camp 3 - ice climbing in the Khumbu - Mt. Everest
Wednesday, April 27, 2011
John and I plan to take advantage of a weather window lasting until tomorrow afternoon to get back up to Camp 2 weather the incoming storm and then touch Camp 3 when the weather subsides. Leave at 3:00am tomorrow for 6 days. But in the meantime we had glorious weather for our active rest day.
Borger out til Early May return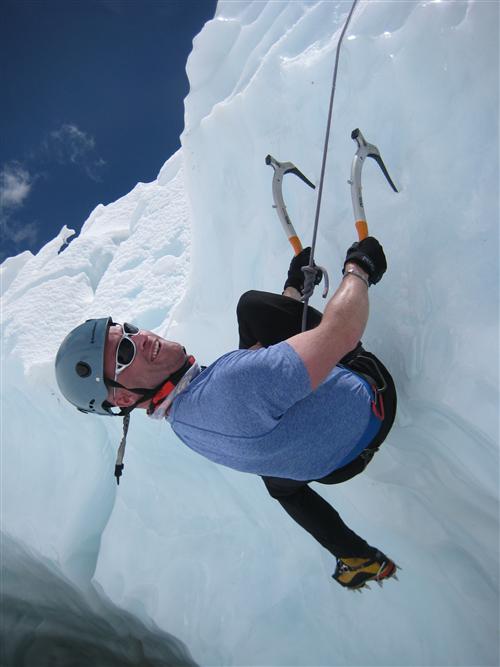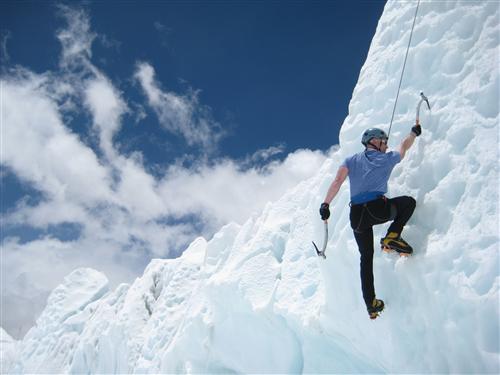 Camp II
Monday, April 25, 2011
The journey from basecamp to camp2 began at 3:00am on Thursday morning. It was a cold, clear and very windy morning that we made good time through the icefall for our first cycle arriving in 4 hours to camp 1. We had decided to not stay the night at camp 1 and go straight to camp 2 because we summitted Lobuche earlier and that was intended to eliminate camp 1 stay and an additional trip throught the icefall. The slog to Camp 2 was very difficult - even though there were some challenging ladders this is just a slog at about 15 degrees ice through the Western cwm and you can see camp 2 for 2 hours before actually arriving there - the key is not to look up - which I did and it was absolutely demoralizing especially in the high winds - accidently dropped my glove at one point but a sprawling dive saved it in the high winds - that could have been bad.
Upon our arrival we had some lunch and went to work saving the tents - The jet stream had settled back over the summit and we found ourselves handing onto the tents for dear life to keep them from ripping apart at the seams. The carniage the following morning in the other camps was incredible - tents were missing and/or destroyed being ripped at the seams. Our camp being slightly lower Camp 2 was spared some of the brunt of the 151km/h winds. The sound of jet stream is like a continuous jet engine overhead.
John and I deteriated physically at Camp 2 with a loss of my appetite and I also struggled with acid reflux issues - the acid reflux combined with my high altitude cough required everything I had not to vomit on many occassions I came very close a few times. The trip down back to base camp after 4 days up high required me to endure acid relux while climbing - we still made good time. Now we will climb at basecamp level just to stay active and head back up this time to camp 3 on the 28th or 29th.
The weirdest thing I've seen was yesterday; we saw a dog just below camp 2 at just over 21,000 ft? Which begs the question how did it get there? Did it climb the ice fall? was it traversing the ladders which were up to 5 ladders wide? did someone help it? If it did climb up for sure it couldn't climb down - very sad. Things that make you go hmmmm?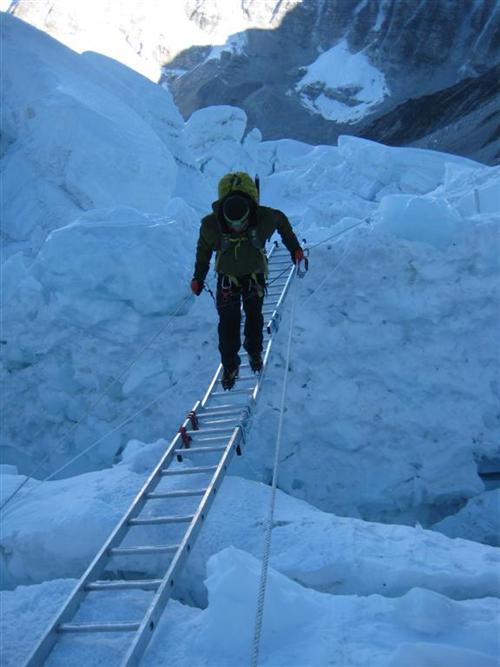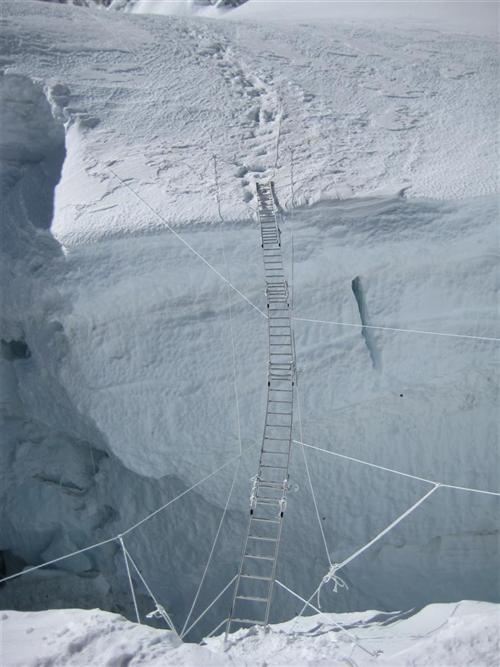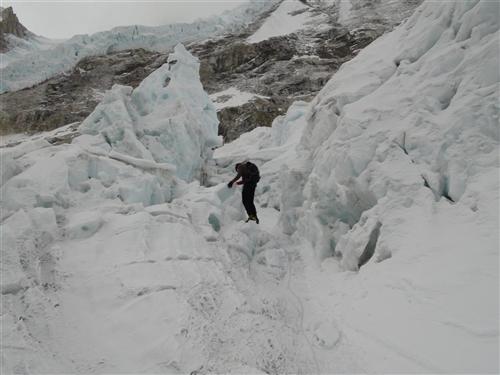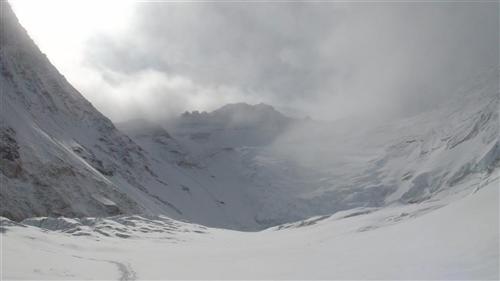 Puja Ceremony
Sunday, April 17, 2011
Today was our 2 hour Puja Ceremony - a ceremony resided over by a Lama who sings gregorian chant while his assistant hits a drum and the rest of us choke on the smoke coming from the burning branches on the Puja Tower. Funny enough at about 1 hour the Lama's cell phone goes off with a nepalise dance mix song… he answers it.
Otherwise our gear, ourselves and our beer and rum were blessed as you can see in the pictures the beer and rum took the forefront our boots are on the otherside of the tower! We also spent a bunch of time throwing rice, flour, drinking beer, rum and Nepali chang - I think AA should visit basecamp? It was actually quite nice and our team gathered together for a group picture in our team jackets shown below. Our camp looks way more colourful now with the prayer flags stretched over all of our tents from the Puja Tower.
Now that the ceremony is complete- on Tuesday- the Sherpas and John and myself will be making our way to Camp 2 for 4 days on our next acclimation mission. So signing off til I return from Camp 2.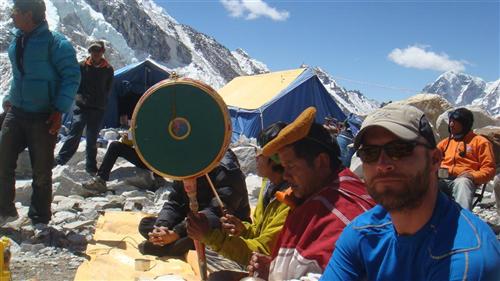 Puja Cermony blessing gear, food and us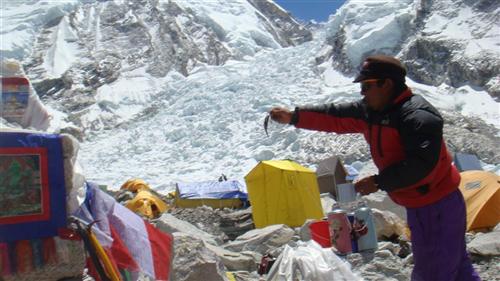 Park for Puja Ceremony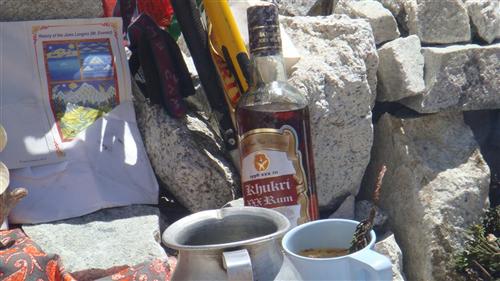 RUM??? on Puja tower to be blessed along with my crampons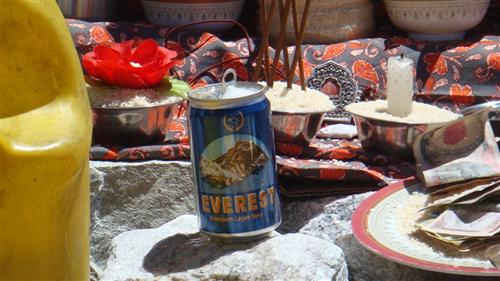 Naturally Everest Beer also makes the cut along with the ice axes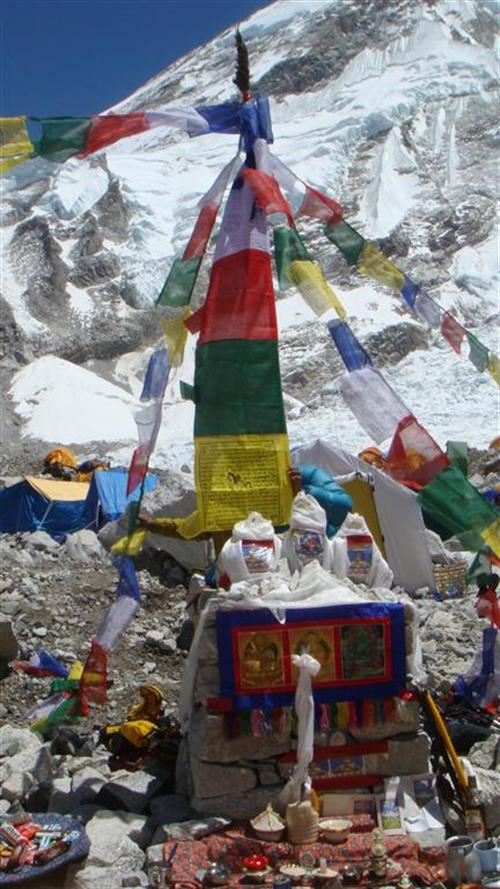 Puja Tower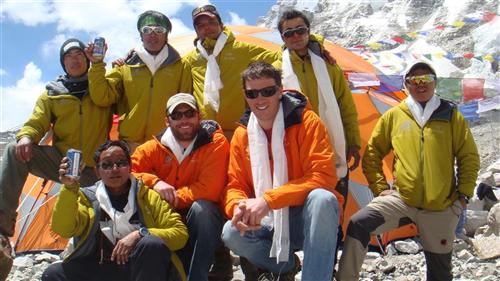 John and I and our team of sherpas
The day off at Base camp
Sunday, April 10, 2011
Some heavy lifting on the day off at basecamp and a view of basecamp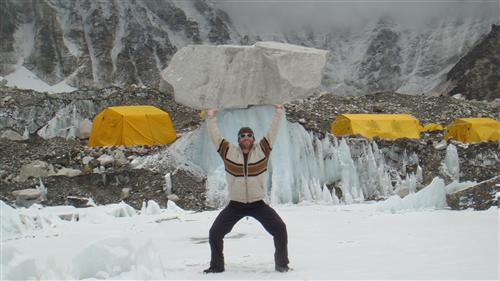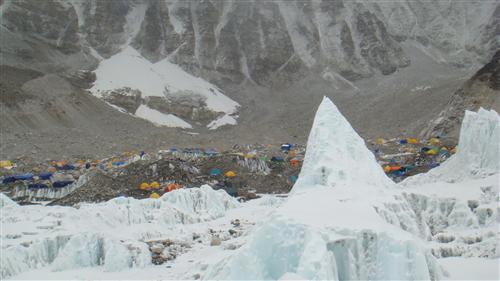 Base camp
Friday, April 08, 2011
Base camp pictures and view of Khumbu Icefall out my tent door. Rock climbing tomorrow and then head off to climb LaBouche as part of our acclimation mission.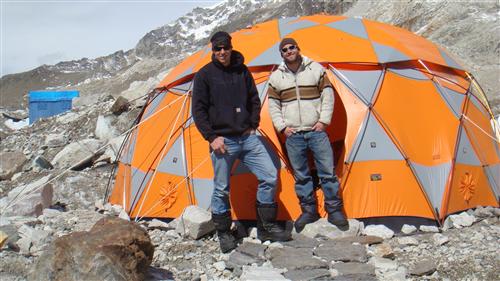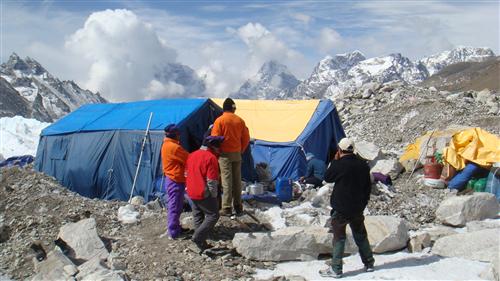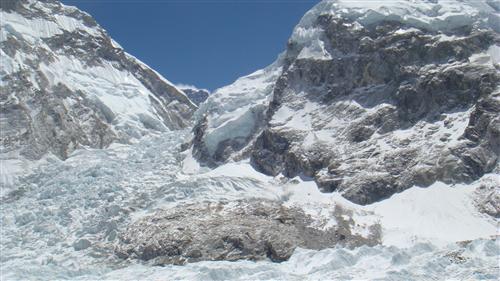 Pheriche - two days from base camp
Wednesday, April 06, 2011
Today was a scheduled rest day so we went above Pheriche (14,022ft) to about 15,500ft to some walls we thought would go and enjoyed the day doing what we love. It looks like we will be at basecamp by Friday night. We are both acclimating really well - no issues yet. Oh yeah and we saw a cool looking monastery.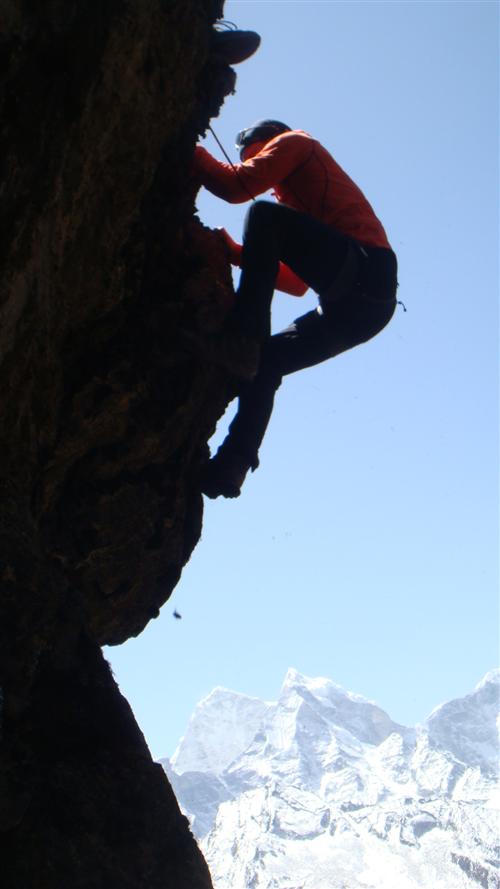 First view of everest today
Sunday, April 03, 2011
Pointing at Everest with Banner Cloud coming off the top - Mt. Lhotse the right is the 4th highest peak in the world. Time permitting we may tackle Mt. Lhotse too.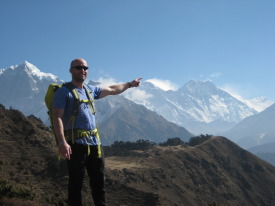 Namche Bazzar
Saturday, April 02, 2011
Two days into the trek now sitting at just over 11,000 ft gained just over 3000 ft today. tomorrow is an active rest day - maybe we will go do some real climbing. The trek so far is on a nice walking route known as the Himalayan highway - really easy walking but spectacular views nonetheless. Got in took a hot shower at the lodge - the last of the luxury accommodation. Expect to reach base camp in 7 more days.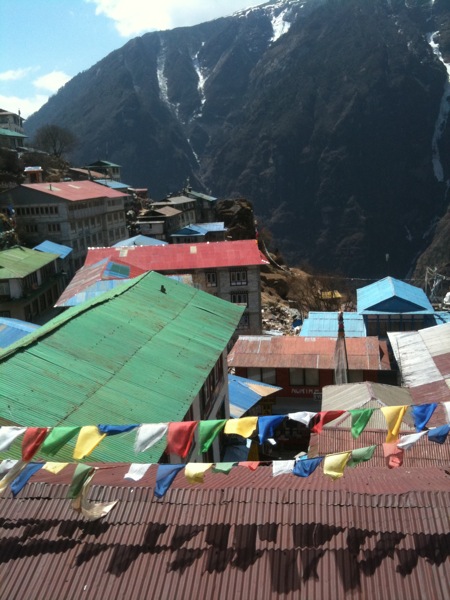 Permit in Hand - next stop Lukla
Thursday, March 31, 2011
Waiting for fog to clear so we can fly in.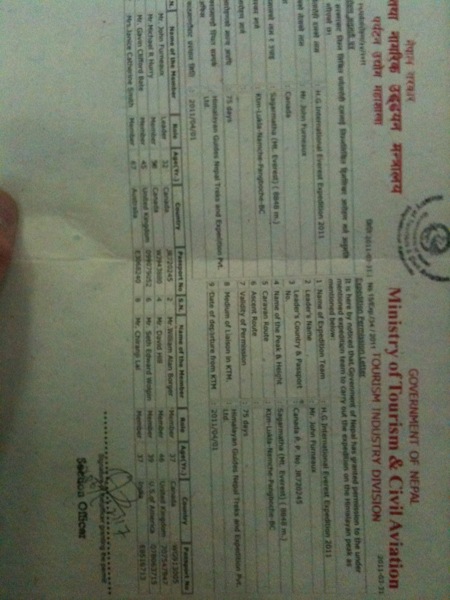 March 28 flying Out
Monday, March 28, 2011
A year and a half after starting this journey encompassing more than 200 climbing days on 3 different continents I'm now off to everest for the true test of my mountaineering and training to date - A lot of emotions, anxiety, excitement, nervousness.